I am so excited that I have my sewing things back.
I would have finished the cuffs on my c. 1790 striped dress last night, but after I finished pressing and starching the rolled hems, I realized I had hemmed them both to the same side. It is not that easy to undo a pressed and starched rolled hem and press it flat so that you can roll it to the other side! Ah, well, at least I was able to get it rehemmed so I think I can still finish them tomorrow. Then there's just a bit of lace above them, and the dress will be finished. I've still got the fichu to make, but first I've been planning new stays.
Fortunately, I found something that wasn't too terribly wrinkled. Bonus points for it being a costume that I had never actually worn before except for a few pictures. It was the first outing of the ribbon corset too. It was easy to forget I was wearing it until I got into the car. It was still not terribly comfortable driving, but it was better than the usual sort of corset.
I got my daughter to take a picture when we got home for proof.
The girls wore their witch costumes without the cloaks, but the boy just wore his swimming things.
It turned out that my cousin's daughter wanted a costume swimming party for her birthday party yesterday afternoon. I found out about the costume part yesterday morning at breakfast.
And here's the whole group:
I apparently I got to the house after a whole crop of trick-or-treaters came by, but there weren't too many while I sat handing out candy. It was good for my knitting, though. I'm four rows short of the halfway point on my garter. This picture is actually from Monday night, but I've only gotten about thirteen rows farther since I didn't get to knit last night. I'm doing better with the tension at color changes so it's not bunching quite as much as it was.
</script
I finally managed to take pictures of the girls' Hallowe'en costumes after we got home Tuesday night. They both wanted to be witches but picked different fabrics. (They're nearly always the same thing in different fabrics, assuming we can count different Disney princesses as essentially the same thing in different fabrics.) They picked a learn-to-sew pattern so the dresses were really easy. We bought the hats.
He is better at posing for costume pictures than I am.
The girls' witch costumes are nearly finished. They're composed of three pieces each, and two of the pieces are finished. The third pieces are nearly finished and should certainly be finished by Friday when they have a school event with a costume component.
We have one finished Hallowe'en costume. MT is going to be a ninja turtle. Apparently the orange sash and mask mean he's going to be Michelangelo. I'll take his word for it. We bought the back shell but made all the other pieces. I'll admit the front shell is held on with safety pins, but I didn't exactly like to tack it to the back shell straps and didn't want to sew on more velcro or anything. I don't particularly care for working with velcro...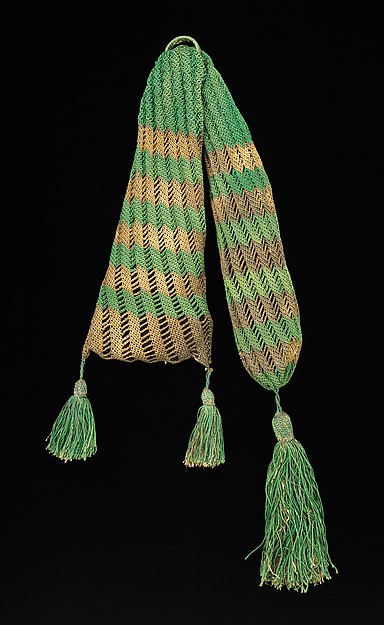 I played around with a couple of patterns and found one that I felt gave the same flavor, though I didn't try to do it in stripes. I can't even imagine trying to find a suitable substitute for that metallic thread. Mine is made of red silk size E beading cord with purse rings from the
Button Baron
. The pattern is Purse No. 3 from
The Knitting and Netting Book
by Miss Watts, published in 1840.
The pattern is supremely simple:
Right side rows: Yarn over, slip one, knit two, pass the slipped stitch over the two knit stitches.
Wrong side rows: Knit.
I cast on 89 stitches so that I could have the multiple of three plus an edge stitch on either side. I knit until it was about 10" long stretched and then blocked it to keep the holes open.
Here's what it looks like without the rings:
I did the tassels like the original, but mine aren't as luxuriant. I should have used twice as many wraps on the tassels (60 and 100 instead of 30 and 50,) but I was running low on thread and didn't want to get carried away.
The Ravelry page is
here
.
I finished my new long purse, aka miser's purse. I wanted a purse that I could use for Regency era costuming since I felt that my shamrock purse was too late looking. I found this one at the Met that I really liked, though I couldn't figure out how to make my knitting look just like it.
Here was the state of the picture last week:
Here it is this week:
I finished the cross-stitches and half cross-stitches yesterday and did a fair bit of the backstitching and French knots and the like that the instructions call "details" and I call "outlining." There's a lot left on the outlining, but I'm pleased with how it looks so far. It's amazing how much better it looks with the edges outlined.
Beside cross-stitching, I've been working on Hallowe'en costumes for the children. Since I'm just at the cutting stage, there's nothing to show. I also started a Christmas ornament for one of the girls while I was at a needlework circle on Saturday. It was a lot more portable than the floor stand I'm using for the cross-stitching. I've knit a few rows of my miser's purse too.
I know these posts are boring, but I do like to post every week. Since this is what I'm doing, this is what you get to read.
This is a fabulous list of period knitting books.